If there were no Cafés, there wouldn't be a Jean-Paul Sartre too…
In the winter of 2017, the inaugural issue of Angah art and culture magazine was published, with the subject of "Café and Café Culture." "Café, coffeehouse, or any other hangouts, are venues for communications, and sipping coffee or tea are only excuses," says Arash Tanhai, the editor of Angah magazine, in the editorial of this edition. Communication of varied qualities, as well as varied narrations and stories about ideas, dialogues, and literature."
Agah magazine has explored the " Café and café culture" with articles by Ahmad Pouri, Nasser Fakouhi, Kambiz Deranbakhsh, Lili Golestan, Davoud Arsouni, Mohammad Tolouei and Javad Atefeh.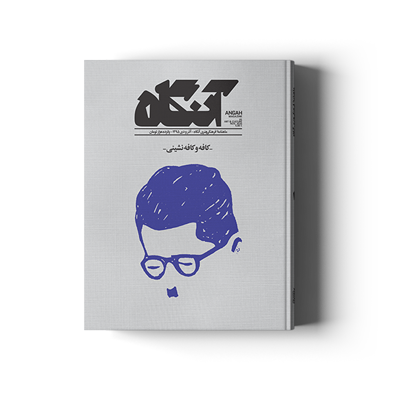 In an interview with Ahmad Mohit Tabatabai, Maria Shahi discussed the history of café culture in Iran. Cafés are described as an urban phenomenon and a place to socialize and pass the time in this interview. Ebrahim Haghighi has published an article called "Places that are Excuses" about cafés and coffeehouses from a different perspective, which are places to acquire knowledge, ask questions, and learn about the history. A place to forget about your sorrows, socialize with others, and have some fun with games and entertainment. Peyman Hooshmandzadeh's photo collection from Shouka café has been published by Angah in this issue.. "Scene: A small and dirty Coffeehouse", "Tea, Hookah and Coffeetality", "Invisible cafés", "The lights of relationship are dim" and "Goodbye Naderi café" are examples of other articles in this issue.
The most popular issue of Angah magazine, with a photo of Sadegh Hedayat on the cover, was "Café and Café Culture."
Table Of content
7
Editorial
> Arash Tanhai
8
From the little square in front of the village to the British pubs
> Ahmad Pouri
10
A look at the history of café culture in Iran; An interview with Ahmad Mohit Tabatabai
> Maria Shahi
18
The café that wasn't, The street that was
> Nasser Fakouhi
22
Places that are excuses
> Ebrahim Haghighi
24
Drink the body of the world!
> Mazdak Daneshvar
26
Narrative of perspectives; A look at the photo collection of Peyman Hooshmandzadeh from Shouka café
> Zanyar Boloury
34
Shouka café; An interview with YarAli PourMoghaddam
> Saba La'l Mohammadi
43
Café culture, dream and fantasy
> Gita Gorgani
44
From Mash Ghanbar coffeehouse to Loghanteh café
> Shams Aghajani
46
From a place to argue to a place to forget; Secret history of coffeehouse in Tabriz
> Akbar Shariat
50
Scene: A small and dirty Coffeehouse
> Saeed Khajeh Afzali
58
The sound of café
> Omid Anaraki
66
Tea, Hookah and Coffeetality
> Elham Zarenejad
68
Cafés that are, and a café that isn't; A look into the café culture of Ilam
> Hossein Shekarbeigi
70
Amnesia cafés, Isfahan's amnesia syndrome
> Salar Rafi'ian
72
Cafés, memories and returning to the specific point
> Sara Sabet
78
Coffee Houses still rules; A look at café culture of Tabriz
> Ali Pourian
86
Invisible cafés
> Mohammad Tolouei
94
Ardeshir Mohasses and the critique of era
> Esmaeil Abbasi
102
Pajama café
> Ramin Beiraghdaar
104
Whole ten years on that orange couch
> Banafsheh Cheraghi
106
Unmarked cafés
> Touraj Saberivand
108
Forty-five years old logo; About evolution of Starbucks logo
> Meraj Ghanbari
110
A window to people; An interview with Kambiz Deranbakhsh
> Sana Hosseinpour
118
Café Culture and the tradition of conversing
>Roshan Norozi
120
From the third republic of France to sartre's existentialism
> Faranak Ahmadzadeh
124
I'm on the terrace
> pierre reno >Mitra Asfari
128
The lights of relationship are dim; A review of cafés in Edward hopper's works With a look at the "Chop Suey"
> Mones Mohammadi
134
Interview with Jim Jarmusch about "coffee and cigarettes" film
> Translation by Mehrnoosh Fetrat
138
Cafés and hangouts; Interview with Lili Golestan
> Golboo Fiuzi
146
Inspiration espresso; A look into the effects of café Culture on art creativity
> Hadith Mottaghi
150
Fifteen world famous cafés
> Translation by Marjan Charkhchi
154
Keyvan café
> Fateh Sahba
168
I didn't deal with my emotions, An unread letter from Morteza Keyvan to Houshang Ebtehaj
172
About Hedayat's hangouts from 1940 to 1950
> Unsigned by a friend of Hedayat
180
Semiotics of café and cafés culture
> Saeed Khajeh Afzali
188
Caffè Greco
> Helia Hammedani
194
The width of Faux cols and café culture
> Hamid Jaffari
196
Theatre-café
> Mohammad Imani Fooladi
198
A cup of internet
> Davoud Arsouni
204
Create other types of archiving, café Nostal
> Younes Younesian
206
Goodbye Naderi café
> Javad Atefeh