Gallery and gallery browsing
The title of the ninth issue of Angah magazine, which has an image of Masoumeh Seyhoun by Iman Safaei on the cover, is "Gallery ; The Effective Obsolete," which deals with galleries and gallery browsing. Masoumeh Seyhoun, also known as Masoumeh Noushin, was an Iranian painter, visual artist, and the founder of Seyhoun Gallery, the country's first gallery. She co-founded the gallery with her husband and played a key role in exposing young artists through the years. In his article "Gallery ; The Effective Obsolete," Sajad Bagheban Maher, the issue's fill-in editor, writes: "Gallery is a European term that has a varied meaning and application on Iranian culture and Persian language, as much as gallery may imply several things to an Iranian, from automobile exhibitions to photo albums in smartphones. However, the art gallery and its new application became well-known in the twentieth century, and it became one of the most important art bases.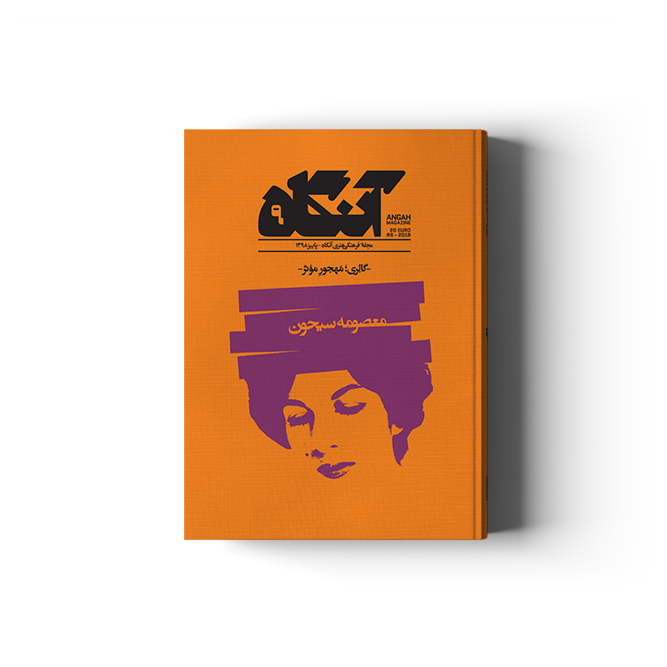 In this issue, Emadallldin Ghorashi's article "From dwelling to halls' ' discusses galley history and its importance in history. The historical impact of galleries is discussed in a conversation between Sajjad Bagheban Maher, Behnam Kamrani, and Zarvan Roohbakhshan. Two pieces, "Slight but Unstable Growth" by Ali Akbar Jahangard and "Story of Galleries in Isfahan" by Amir Rajaei, look at the state of galleries in various cities. Angah magazine also examines gallery architecture in Iran and elsewhere. The situation of gallery posters, the relationship between museums and galleries, and Masoumeh Seyhoun's life are then discussed. Interviews with Kamran diba, Mohammadreza Moridi, Mohammadhassan Hamedi, Reza Abedini, Lili Golestan, Rozita Sharaf Jahan, and Orkideh Doroudi can be found in the ninth issue of Angah magazine.
Table Of content
7
Editorial
> Arash Tanhai
8
Gallery ; The effective obsolete
> Sajad Bagheban Maher
10
From dwelling to halls
> Seyed Emadallldin Ghorashi
28
It is not the job of the gallery to set up art movements. Interview with Kamran diba
> Arash Tanhai
42
Gallery doesn't want to include everyone. Conversation between Sajjad Bagheban Maher, Behnam Kamrani, Zarvan Roohbakhshan
54
Having a livelihood from art
> Hamidreza Sheshjavani
64
Trying to expand the non hegemonic spaces. Interview with Mohammadreza Moridi
> Hadi Aghajanzadeh
72
Magicless box
> Asieh Mazinani
82
We don't take any photo without Mona
> Afsaneh Kamran
90
Slight but unstable growth
> Ali Akbar Jahangard
94
Story of galleries in Isfahan
> Amir Rajaei
100
Many pens started writing in Tandis. Interview with Mohammadhassan Hamedi
> Hossein Ganji
108
Architecture decides the way for Iranian painting scene
> Alireza Emtiaz
112
When they go to gallery, the do something else
> Hafez Rouhani
118
Posters are memorials for a gallery. Interview with Reza Abedini
> Saeed Mazinani
128
Stepbrothers in a hidden competition
> Reza Dabirinejad
132
Observant, observed, observer
> Foad Najmaldin
140
Lancia Montecarlo in Iran's art scene
> Fateh Sahba
162
Managing a gallery is not an easy task. Interview with Lili golestan.
> Toka Maleki
172
All artists in this city have a chance to exhibit their art. Interview with Rozita Sharaf Jahan
> Elnaz Vahid Fathi
178
Exhibit opening is like a wedding for an artist. Interview with Orkideh Doroudi
> Raheleh Amir Bahrami
186
Sweet life of mr. and Mrs. gallery goer
> Shahrouz Nazari
190
Why do we need goalkeepers
> Javid Ramezani
194
I struggle with globalizing region art
> Hossein Mohseni
202
Galley is not just a wall
> Farzaneh Ghobadi
210
Ten advice for managing a gallery or why you shouldn't found a gallery
> Behzad Hatam
216
Artist and the gallery manager
> Maryam Mohed
218
Few ways to get in a gallery
> Taktom Farmanfarmaei
220
Advice to the young artist
> Kambiz Sabri
222
All galleries are bad. All galleries are good
> Saeed Rafi'ei Monfared
224
Working in a gallery
> Shahid safari
226
New millenia investors of art market
> Maryam Roshanfekr, Fatemeh Rezaei
234
Gallery managers as high monks
> Mehdi Ghadernejad Hamamian
240
Our most important recreation activity in Iran
> Mahsa Beiki, Keijo Norvanto, Philippe Thiébaud
Human presence is prosperity
> banoosheh Farhat, Shafagh Motovali