Popular culture or universality
Hadi Aghajanzadeh interviews Hossein Payandeh on "Boundaries of Popular Culture" in this issue, and Shahrooz Nazari writes a report on popular culture in the visual arts, noting that: " Without a doubt, popular culture is a hotbed of cultural disputes, but these conflicts do not benefit either one group over the other, and, on the other hand, they diminish high society if they insist on popularity while ignoring it."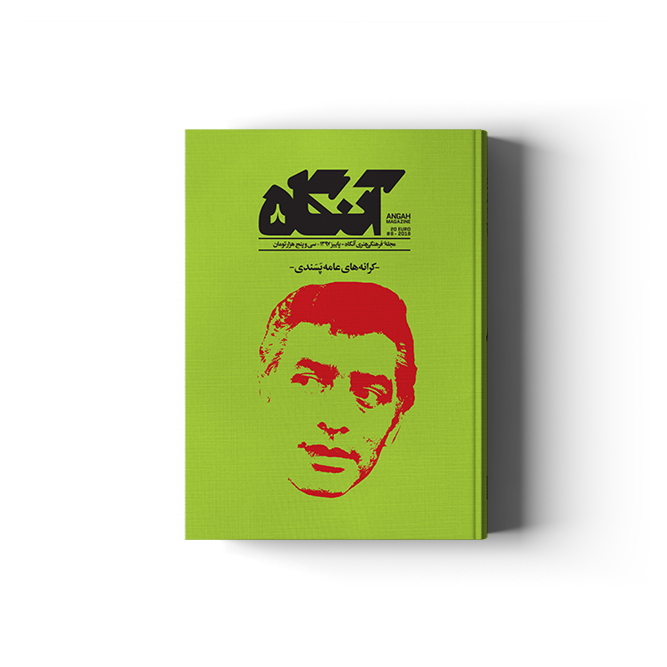 Morad FArhadpour was interviewed on elitism and the critique of popular culture in this issue. This issue's cover has a portrait of Mohammad Ali Fardin, who is also featured in an essay by Fateh Sahba: "The news of Fardin's death went viral. Such important news that the death of this renowned actor was announced by the Islamic republic television, which had placed his name on a two-decade blacklist".
Another topic examined in this issue is Xavier Crement's book "Assholism," which is popular among the general public.
This issue examines popular culture from a variety of perspectives. In this edition, movie posters from "Beehive," "Crossing the Border of Life," "Ghadeghan," and "Dash Akol," among others, are used.
Table Of content
Editorial
> Arash Tanhai
Boundaries of popular culture. Interview with Hossein Payandeh
> Hadi aghajanzadeh
Cultural resistance, trend or necessity?
> Shahrooz Nazari
We, the children of Iran
> Leila Papuli yazdi
Standing between two millstones: Integration and isolation. Interview with Morad Farhadpour
> Hadi Aghajanzadeh, Kabootar Arshadi
From business card to selfie
> Zanyar Boloury
The one who is like no one
> Fateh Sahba
The complexities of compromising the audience. Interview with Mohammad Motovaselani
> Ali Bakhtyari
Higher than any high peaks
> Navid Pourmohammadreza
Sit the chair by the window and watch the long line for theatre
> Ali Amir Riyahi
Shahrzad Series; From myth to moderation
> Shirin Karimi
From radio days to L.A interim. Interview with Sasan Fatemi
> Reza Samim
Shame on the city without poets. Interview with Shahryar Ghanbari
> Hossein Asaran
Dr. Kavoosi
> Aran Javidani, Asam Mohammadi
You are not witless
> Zahra Molouki
The success of Gol Agha. Interview with Ahmad Arabani
> Hadi Heydari
Favouring the west
> Babak Rafi' Ya'lavi
Where does Shariati stand? Interview with Soosan Shariati
Popular culture bodies, Language of telling the truth
> Arash Hassanpour
From Nima to the others
> Farzaneh Ghobadi
Constant struggle with red lines. Interview with Hooshang Golmakani
> Hamidreza Sheshjavani
Until Oshin starts
> Shermin Naderi
Popular culture or universality
> Baharak Mahmoudi
Wonders of writing footnotes
> Ali Bakhtyari
Fluide popularity of repetition. Interview with Emad Khatami
> Hossein Ganji
Further readings
> Amir Molaei