Narration of traveling
The eleventh issue of Angah arrived in our home at a time when we prefer to stay indoors and have ceased traveling. This is another advantage of this issue; it will take us on an unexpected journey through entertaining content.
Angah, as usual, tackles its subject from a variety of views, and this issue's subject is "Travel". In the beginning of this issue you can read an article by Mansour Zabetian called "Travel makes us humans kinder". Saeid Firoozabadi's piece "Glorious palm groves" is about a flight above Iran's skies and Walter Holster's travelogue. Touraj Daryaei's article "Let me take you to see Iran" chronicles his travels with Iraj Afshar. "Traveling through other realms, whether spiritual or physical, helps us grow," says Banousheh Farhat in her piece "Consequently, The Earth Became the Seventh Planet." Shows us our inner dark spots and guides us through the process of illuminating them one by one. Travel means a large book, as well as wisdom and understanding. The deeper the understanding, the deeper the human relationship. Relationships that transcend hereditary borders, relationships that are generated from the human soul."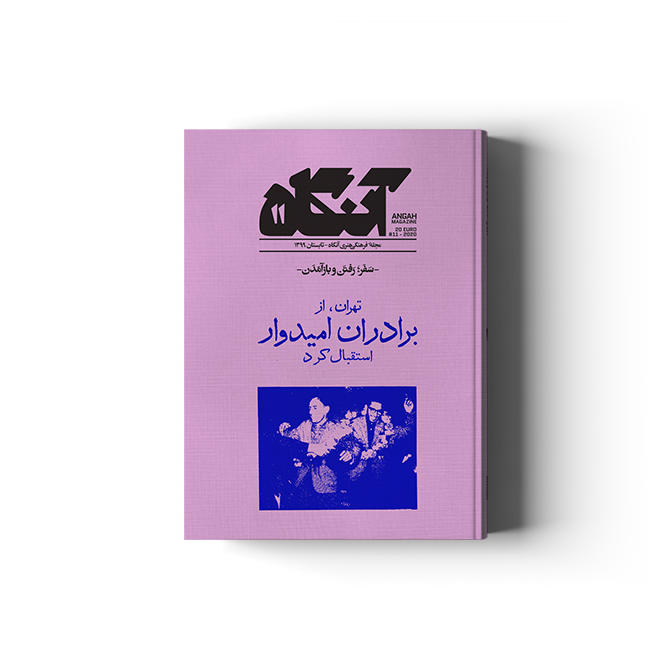 In addition, there are essays and articles regarding the image of Iranians in foreign travel literature, travel in film and literature, and trip narratives by Iranian travelers.
Aside from conversations with Issa Omidvar, Iran Darroudi, Manouchehr Tayab, and Jasem Ghazbanpour, there are travel photographs by Yalda Moaieri, Jasem Ghazbanpour, Maryam Mazraei, Niosha Tavakolian, Hoda Rostami, Mahdi Vosoughnia, and others.
Table Of content
7
Editorial
> Arash Tanhai
8
Travel makes us humans kinder
> Mansour Zabetian
14
Around the world in 10 years. Interview with Issa Omidvar
> Hadi Aghajanzadeh, Hamidreza Mohammadi
22
Yes, fortunately I'm a woman, Interview with Iran Darroudi
> Asieh Mazinani
40
Drunk and metamorph by travel. Interview with Manouchehr Tayab
> Hamidreza Mohammadi
50
Glorious palm groves
> Saeid Firoozabadi
58
Horizon and soul's trip
> Shahrooz Mohajer
68
What if the travel poetry didn't have a concluding verse?
> Masoud Mir
72
To travel; without destination, without fellow traveller, without a way
> Reza Mokhtari
78
Overthrow the distancing boundaries
> Hadi Aghajanzadeh
84
Restless in the shadow of travelling
> Mehrdad Nosrati
90
Behind the mirror doors
> Ali Amir Riyahi
98
Let me take you to see Iran
> Touraj Daryaei
104
103 years around the globe
> Fateh Sahba
126
How would they know our mood, carefree beach goers
> Arezoo Maktoubian
134
Consequently , The earth became the seventh planet
> Banousheh Farhat, Shafagh Motovali
142
Rituals of travellers
> Davoud Arsooni
150
Finding the city of fortunates
> Hoda Rostami
160
In praise of presence against travelling
> Hossein Ganji
166
Ecotourism, Spontaneous movement of people
> Marjan Haji Rahimi
170
Who we spouse to be, who we will be
> Negar Alizadeh
176
How might traveling improve our lives?
> Vahid Hallaj
180
I'll buy you a suitcase, so you ask me the meaning of travel
> Asal Azarpour
184
Hajj Sayyah in one scene,
Mahdi GholiKhan in another scene
> Saleh Tasbihi
190
If we don't go to the north, we should go to the south?
> Amir Sohrabi
204
Where the drew boundaries, you build bridges
> Maryam Mazrouei
208
From Reza Shah to Pan American
> Mohammad Mokhberi, Shioma Taheriparsa
214
Travel is not just to travel
> Farzad Moghadam
220
Narration of travelling stories
> Mahdi Norooz
228
To travel is to experience, Interview with Jasem Ghabanpour
> Arash Tanhai