For Bushehr
Bushehr is a place I've never visited. It's only via books and stories that I've learned anything about it. For me, Bushehr is sad because of the heat and humidity, the scorching sun, and the people.Bushehr is the consistent tonality of Damam and Neyanban for me. For me, Bushehr is Kiomars Pourahmad's film "For Hanieh." It's a picture of a young topless and tanned lad lying on the beach after a long day of playing, exhausted and looking forward to the dawn of a new day. Anghah magazine devotes each issue to a new subject from a new perspective, issues that may have been examined previously about the historical vision of Angah on each subject makes it so enjoyable and distinctive.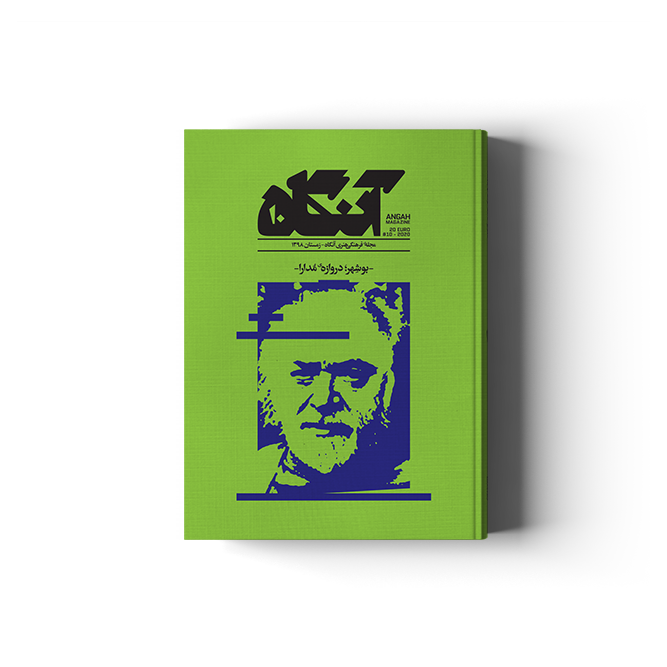 Angah explored Shiraz in the sixth issue, but Bushehr was picked as the subject, and if you've never gone to Bushehr, reading this issue will make you feel as if you've taken a brief trip to this southern port, to Bushehr; the gate of tolerance. In the winter of 2020, the tenth issue of Angah art and culture magazine was published, with the subject of "Bushehr; The gate of tolerance".
This issue's fill-in-editor is Hamidreza Mohammadi. The appealing color of the cover conjures up images of Bushehr's heat and shine, as well as the sun's spread across Iran's southern border and people's joy. "Bushehr is an example of an Iranian city in the magnitude of the country, like Tehran," writes Mohammad Beheshti on the opening page.
Studying the people of each era is the most essential part of understanding that era. Angah describes the history and background of this southern city, as well as the lovely stories of fortitude and perseverance of its inhabitants, from "a few thousand years ago to just now". Tells the story of "The chant of persian sailors" and "The City of tolerance". From "Hot and sometimes powerless nights of Bushehr" to "Architecture of Bushehr in one glance". It has interviews with Seyed Jaffar Hamidi, Iraj Saghiri, Abdolkarim Mashayekhi, Mohsen Sharifian and others. This issue of angah will take us to Bushehr.
Table Of content
7
Editorial
> Arash Tanhai
8
From the people of a few thousand years ago to right now
> Hamidreza Mohamadi
10
Modernization of civilization
> Seyed Mohammad Beheshti
16
Let him have two guns instead of one. Interview with Ehsan Abdipour
> Arash Tanhai
32
Telegraph and post company of bushehr in Qajar era
> Willem Floor Translated by Iraj Nabavipour, Esmaeil Nabavipour
36
Bushehr, January 20th 2017
> Hessein Hosseini
42
Requiem by a romantic revolutionary for the indiscreet Charm of the Bourgeoisie
> Darioush Gharibzadeh
48
Utmost honor and courage
50
> Touraj Daryaei
The old man and the sea. Interview with Abdolrasoul Gharibi
> Hamidreza Mohammadi
64
From Abushahr to Bushehr. Interview with Abdolkarim Mashayekhi
> Mohammadreza Hamidi
76
Bushehr, January 1981
> Mohammad Tahaminejad
78
Hitler's rage or the rude maid
> Shahram Zargar
82
A narrative of the hot and sometimes powerless nights of Bushehr
> Hajar Razmpa
88
Prosperity of Bushehr
> Omid Akhavi
94
Mama Yuma
> Maryam Manouchehri
100
Censored bombings
> Seyed Ghassem Yahosseini
110
On the old Persian Gulf shore
> Monireh Zeinali
116
The past, shining a light on the way ahead
> Mahtab Ebrahimzadeh
120
Why is Bushehr so averse to modernity?
> Esmaeil Hessammoghdam
124
I Always hated politics, Interview with Iraj Saghiri
> Arash Tanhai
136
The posterity and bushehr, Interview with Ali Pirmoradi
> Elham Ahmadpour
140
Seven layer of ash
> Fateh Sahba
158
No one has felt as sorry as I have for Bushehr, Interview with Seyed Jaffar Hamidi
> Maryam Shahbazi
164
Another song
> Mohsen Mosavi Mirkalaei
172
A man with a heart attack in his pocket, Interview with Saeid Mahimani
> Hamidreza Zerafat
176
In the harbor of history
> Foroozan Zibaei
178
The chant of persian sailors, Interview with Mohsen Sharifian
> Hamid Radmehr
184
Fate of a city. Interview with Gholamreza Amirkhani
> Mahdi Norooz
190
The land of Mojahedin endeavors
> Amirreza Mohammadi
198
Four corners of an order…
> Galia Haghparast
202
Architecture of Bushehr in one glance
> Ahmad Talebinejad
206
Two perspectives, Naser Vojdan and Zari Shesh Bolouki's photos
> Yalda Moayeri
216
Constant tone of Damam and Senj
> Sadaf Pourshakibaei
220
The harbor's representatives
> Forough Bahreini
226
The name of some
> Farhan Sonboldel
234
The City of tolerance
> Hamid Moazeni
238
Doctor of deprived areas
> Khosrow Sinai