Many faces of Laleh-zar
The twelfth issue of Angah magazine was released in the fall of 2020, with the subject "Laleh-Zar Street, The nightingale".
"There is no shared knowledge of laleh-zar, since to have a shared knowledge of something, there must be comprehension, yet laleh-zar is an unknown location". This issue starts with this sentence. In the opening article, Navid Pourmohammad Reza poses a crucial question to the reader: "Which Laleh-zar?" He argues that the laleh-zar in popular culture, such as movies and novels, and in people's minds is vastly different than it is now. And it's because of this discrepancy that admitting the truth is hard.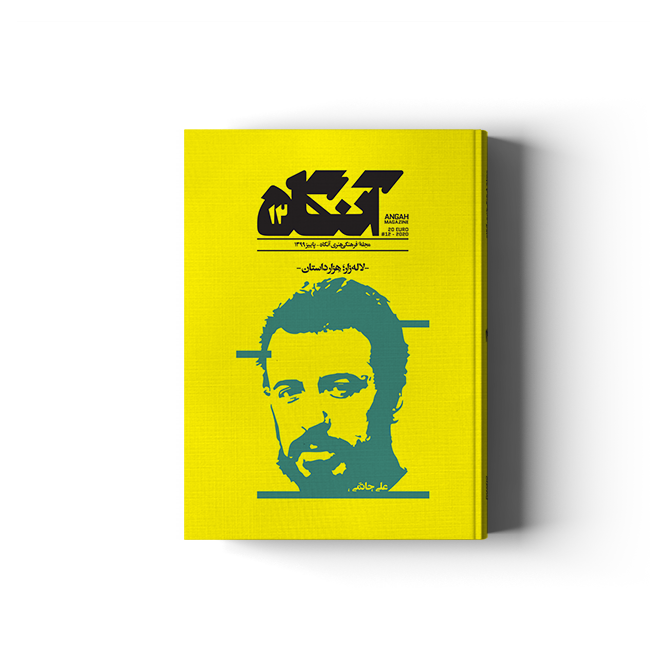 In an interview with Aida Maftahi, Darioush Asadzadeh believes that the Lahleh-zar of the past is even more intriguing than the Champs-Élysées of Paris. Pirooz Hanachi, the Tehran governor, argues in another interview with Hossein Shahrabi on the significance of manuplicy in having a more cultural and peaceful Laleh-zar with a more appropriate economic model. In an interview with Angah, Bijan Shafei points out that the development of Laleh-zar into an electric store hub is a natural one.
Laleh-zar has affected literature as well, as Ali Masoudnia explores a few works by well-known Iranian authors and attempts to interpret them. True, the past Laleh-zar was a magnificent, nice-smelling, and stylish Laleh-zar, but the reality remains that Laleh-zar has survivors, who are best defined by Ashkan Gholipour as "sole witnesses of Laleh-zar, crumpled portraits with Infectious wound of memories."
Table Of content
7
Editorial
> Arash Tanhai
8
Which Laleh-zar?
> Navid Pourmohammad Reza
16
Laleh-zar, The eternal spirit, Interview with Darioush Asadzadeh
> Aida Meftahi
24
Background and the time of Laleh-zar, Interview with Bijan Shafei
> Amirhossein Taheri and Navid Pour Mohammad Reza
42
The raree show of Ali Hatami
> Mohsen Azarm
50
Crowded loneliness of a street
> Farzaneh Ghobadi
58
A street leading to hell
> Ali Masoudnia
68
Passing Laleh-zar, Interview with Mohsen Godarzi
> Navid Pourmohammad Reza
84
Exiting the pelvis
> Ali Gholipour
94
Laleh-zar of Kimiai, Kimiai of Laleh-zar
> Sina Khazime
102
Laleh-zar street in the light of Laleh-zar Garden
> Hamed ValadKhani
108
Dream of the city for Laleh-zar, Interview with Pirooz Hanachi
> Hossein Shahrabi
116
Laleh-zar or Iron city
> Kamran Adl
124
Burned from the lips of candles
> Fateh Sahba
138
I remember
> Robert Safarian
144
Bitter sunset
> Jalal Tehrani
156
The Captive
> Mansour Delrish
162
Laleh-zar, from Glory to lementation
> Ebrahim Haghighi
166
A look at the first Laleh-zar
> Ahmad Masjed Jamei
172
More Laleh-zar, Interview with Alireza Taghaboni
> Sina Dadkhah
180
The Slavary shop
> Aida Moradi Ahani
190
Mystery of the mansion
> Milad Daraei
198
Laleh-zar inhabitants of Qajar and Pahlavi era
> Maryam Mirzaei
204
Leftovers of Laleh-zar
> Ashkan Gholipour
212
Analyzing the truth from nostalgia
> Zahra Molouki
224
A house to lighten up a street
> Yaser Jaffari
228
Laleh-zar of Vartan
> Banousheh Farhat
232
Laleh-zar in garbage
> Aida Meftahi
244
Like Orpheus
> Sepideh Sami
246
Laleh-zar and a little bit more
> Elham Ahmadpour
250
Laleh-zar narrated by paintings and painters
> Kianoush Motaghedi