Khayyam was a man of unfinished
The seventh edition of angah magazine features Omar Ibn Ebrahim Khayyam, a Persian polymath, mathematician, astronomer, philosopher, and poet from the Seljuk dynasty. Khayyam's fame stems from his poetrys, which were translated into English by Edward Fitzgerald, an English writer. The seventh issue of Angah was released in the summer of 2018, coinciding with his thousandth anniversary. Farzad Moghadam explores the numerous dimensions of his personality in the first article, titled "The thousand sided prism." Khayyam, he argues, is a complex mystery for knowledge seekers. In "Which Khayyam?" Mohammad Mirzakhani examines the multiple reports of Khayyam's life.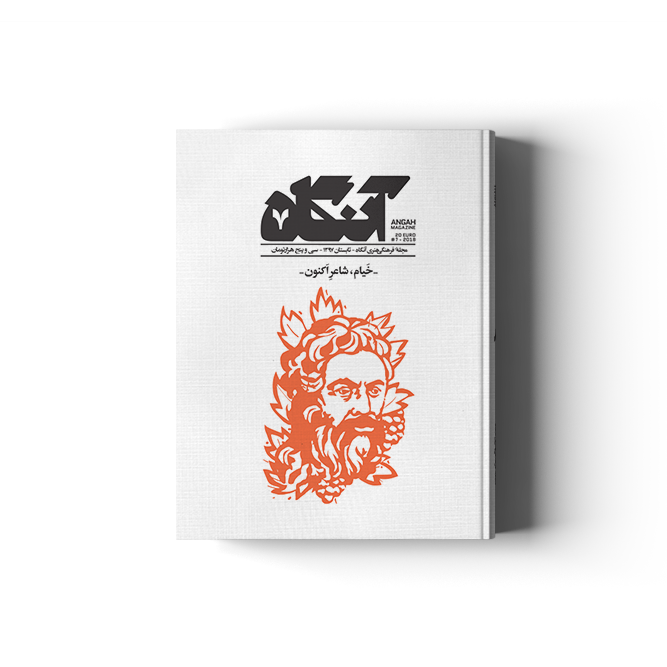 Dariush Shayegan refers to Nietzsche's views of everlasting return in the article "Khayyamean Nietzsche or Nietzschean Khayyam?" and writes: "Despite their easy deceptive look, understanding Khayyam's thoughts is quite difficult. It's like though you're holding soft sand in your hands. It will fall, as you deduced from the initial glance and a superficial reading. The harder you try to retain them in your hands, the more they slip away from you".
Baharak Mahmoudi writes about Khayyam's life in Neyshabour in her article "Hidden and Visible of the Wise," while Mojtaba Mousavi writes about various statues of Khayyam all around the world in his piece "Embodied Khayyam, with a hand under his chin."
Dariush Shayegan, Zia Movahed, Behrooz Gharibpour, Aydin Aghdashloo, Hadi Bakaeian, Mohammad Ali Moradi, Arash Tabibzadeh, and Leila Nasiriha contributed interviews and articles to the seventh issue of Angah Magazine.
Table Of content
7
Editorial
> Arash Tanhai
8
The thousand sided prism
> Farzad Moghadam
14
The poet of doubts, philosopher of denial. Interview with Zia Movahed
> Mohammad Tolouei
22
Which Khayyam?
> Mohammad Mirzakhani
34
Khayyamean Nietzsche or Nietzschean Khayyam?
> Dariush Shayegan
42
A way for the future
> Seyed Abbas Salehi
44
Let's Play a little on the existence rug. Interview with Behrooz Gharibpour
> Arash Tanhai
60
Extracting water from iron
> Fateh Sahba
70
There is a chalice made with wit profound
> Hossein Attaran
82
The calm beneath the red flower's Shrub
> Davood Arsooni
86
Memories of destruction, regrets and enchantments. Interview with Aydin Aghdashloo
> Hossein Ganji
98
Khayya, poems imagined by Saeed Tajvidi
> Shahrooz Mohajer
106
Cheerful Khayyamean practice
> Alireza Hasheminejad
116
Hidden and visible of the wise
> Baharak Mahmoudi
128
Forgotten happiness of our past and present. Interview with Hadi Bakaeian
> Abbas Kazemi
138
Timely era
> Maryam Palizban
142
Khayyam in the court of Hollywood
> Hadi Aghajanzadeh and Shirin Taghiznejad
150
Embodied Khayyam, with a hand under his chin
> Mojtaba Mousavi
156
Neyshabourian harmony of words
> Astiaj Ziaie
162
From the vase of Khayyam to the Vahdat theatre hall
> Pari Maleki
166
Us little beauties
> Gizella Varga Sinai
172
Epicurean temperaments. Interview with Mohammad Ali Moradi
> Kabootar Arshadi
180
Refine the cloak of a sinner
> Hadi Tabatabaei
186
From Ottoman empire to Turkey
> Torquay Shafagh
190
Where is the Koko Koko?
> Anis Batour translated by Mojgan Dowlat Abadi
192
Ceremonies before us. Interview With Kavoos Hassanli
> Maryam Hashempour
198
In search of Pagan restaurant
> Leila Nasiriha
204
Your poem, like a human life
> Ehsan Rezaei
210
Khayyam's share of the science
> Leila Kazemi
214
The Spring, plum blossoms and the Tomb. Interview with Arash Tabibzadeh
> Hossein Shahrabi
224
Khayyam is my first name
> Farzaneh Ghobadi
232
The russian Khayyam
> Zeynab younesian
236
A few books more to read
> Amir Molaei