Remembering Shiraz
For the sixth issue, Angah chose the subject of Shiraz, entitled "Shiraz: The City of Conversation." Humans are the ones who are most affected by their environment, and we must not overlook the impact of humans on cities. Humans have always put a high value on the environment, and Angah attempts to explore this relationship with Shiraz.
The Shiraz issue opens with a poem by Hafez and a photo of a few women in Hafez's tomb by Abbas Attar, a well-known photojournalist.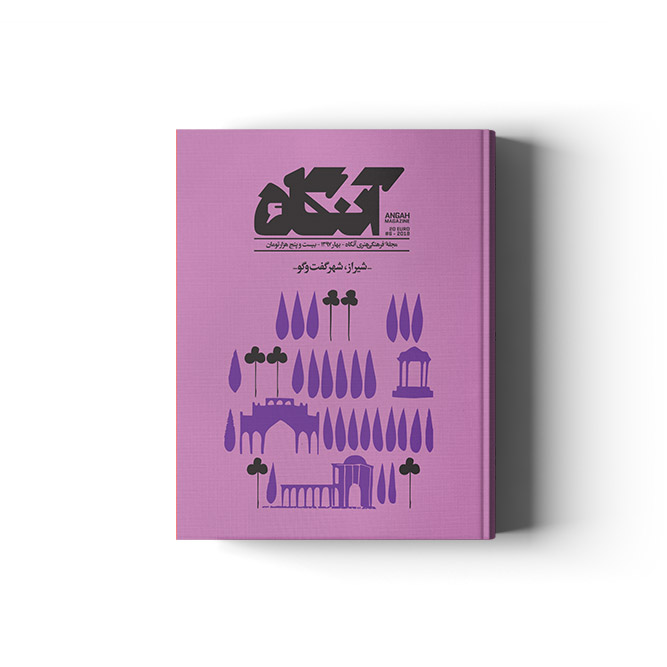 Interviews with Ebrahim Golestan, Mohammad Keshavarz, Bahram Dabiri, and Gholamhossein Saber feature in the sixth issue.
"Many writers have written about their cities," Ali Amir Riahi writes in the opening article. About cities with labyrinths of alleys and streets that provided residents and inhabitants with a sense of identity and existence. Cities, on the other hand, derive their color and moods from their inhabitants. The mood of a city is determined by the tastes of its inhabitants."
Mohammad Sarvi analyzes Shiraz from a historical perspective in his piece "In a Foreign Country." The article "We two or three, gathered in a private…" delves more into the Shiraz literary meetings. A range of intriguing photos from places and people, as well as other sites in Shiraz, are attached to each of these articles.
Table Of content
Editorial
> Ali Amir Riahi
Poem of the city
> Mohammad Beheshti
From the gone days. Interview with Ebrahim Golestan
> Vahid Daavar
The poor wealthy
> Farzad Moghadam
The city of love and fault
> Mina Rezaei
It's unique condition
> Farzane Ghobadi
In a foreign country
> Mohammad Sarvi
Godard of Hafez
> Victor Daniel and Golnar Taajdaar
The Story of Shiraz. Interview with Mohammad Keshavarz
> Mohammad Tolouei
We two or three, gathered in a private…
> Maryam Hashempour
Golestan, the pool and the freedom age
> Sirous Roumi
Poetry is my business
> Fateh sahba
Golnar
> Khosrow Hakim Rabet
Everyday street life of Shiraz amid the thirty-five years old memories
> Mehdi Rostami
Esfand book passage
> Hamidreza Zerafat, Anis Sa'adat
Grass corner
> Hajar Razmpa
So they sit, and musicians start
> Sadaf Shakibaei, Razie Jeyranzadeh
Nobels of this neighbor
> Mohammad Reza Behzadi
The shiraz house
> Afsaneh Kamran
The decline of the garden in the minds of society
> Shirin Karimi
Shiraz spectrum
> Fatima Ferdows
Going and not coming back
> Arash sohrabi
I continue my mission
> Mohammad Sadegh Darvish
Shiraz school, Interview with Bahram Dabiri
> Taraneh Yalda
Notices of a party
> Ali Bakhtiyari
Imaginary city
> Rasoul Nazarzadeh
The wise old magus
> Touraj Daryaei
Self burner and stranger lover. Interview with Mehrzad Dirin
> Saeed Mazinani
The sash room, The first excuses to paint. Interview with Gholamhossein Saber
> Hassan Morizinejad
The songs
> Astiaj Ziaie
The fifth view
> Arash Basirat
The private collection of Mr. M
> Roshanak Hadian
Sadegh's empty place
> Mahdi Parsaei, Mahsa Faghihi
When The wind carry your voice to far places
> Banoosheh Farhat