Peykan, 50 years old friendship
Ahmad and Mahmoud Khayyami founded the Iran national company, which changed its name to Iran Khodro following the revolution. The Khayyami brothers signed a deal with Rootes Company in England to produce Peykan in 1966, and Iran National Company was launched a year later on May 13th, 1967.
In this issue of angah magazine, "Peykan, 50 years of friendship," and in the article "Fathers of Peykan," you may read: "Both Ahmad and Mahmoud Khayyami began their careers as workers and laborers as children, therefore they understand the pain and suffering of employees more than any other employer. That is why, after achieving relative economic stability, their first action and priority was to improve the personnel's standard of living."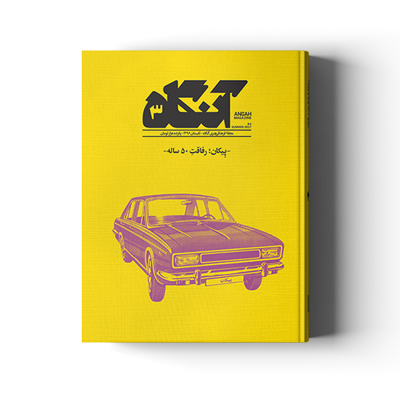 Mahmoud Khayyami created the industrial and mining bank, the Kourosh (now Qods) chain of stores, and Iran's first furniture manufacturer before the revolution (Mobliran).
In his article, Fateh Sahba mentions the Khayyami brothers as humble benefactors, writing: "Both boys were quite religious as a result of their father's teachings. Mahmoud gave a piece of land behind their house to a Hussainiya, and Ahmad assisted in the construction of a mosque." After Mahmoud's death, he left behind a hundred and ten schools and educational complexes that would live on throughout Iranian history.
Table Of content
Editorial
> Arash Tanhai
The world through the mirror of Peykan
> Seyed Mohammad Beheshti
Peykan: The rise and the fall of a national treasure
> Nasser Fakouhi
Dream of young boys
> Shahrooz Nazari
Peykan: A bite of humor to myth
> Esmaeil Abbasi
Peykan hunter
> interview with Shahin Armin
Peykan as the body
> Hossein Ganji
Fathers of Peykan
> Fateh Sahba
Thought deadend, Iranian assembly
> Rasoul Nazarzadeh
Orange clothes, Orange Face
> Banousheh Farhat
Peykan music
> Omid Anaraki
About the "Happy birthday" song
> Anoushiravan Rohani
Shirdel according to Shirdel
> Kaboutar Arshadi
Peykan, Hormozian style. Interview with Mohsen Mirzaei
> Mohammad Reza Behzadi
Peykanian life
> Abbas Kazemi and Hadi Aghajanzadeh
Revolutionary Peykan, Photos of Bahman Jalali and Ra'na Javadi
> Younes Younesian
The love of American life
> Taraneh Yalda
Automobile, Private or public area?
> Bahman Keshavarz
Andy Warhol's cars
> Yasaman Bahremand
Francoise Sagan, sport car fanatic
> Sylvian Rise. Translated by Asghar Nouri
From "The great Gatsby" to "The Wind in the Willows"
> Andrew Tiller Translated by Ali Amir Riyahi
Peykan, the impotent myth of modern times. Interview with Dr. Baman Namvar Motlagh
> Hossein Ganji
Dear memory of Peykan
> Afsaneh Kamran
An Arrow that never hit the target
> Farzad Moghadam
Authomobil, a seatheart and a burden
> Leila Khodabakhsh
Iron gentleman, iron Dash Akol
> Davood Arsouni
Stories of me and my dad; Orange Peykan
> Amir Sohrabi
Oh, Peykan…
> Hamid Reza Kaemai
The Peykan that was
>Kourosh Adim
Peykan of the city
> Hoora Motamed Amini
A look at the show "Mr. Abbas, worker of Iran National"
> Javad Atefeh
Peykan as a polluter
> Ali Bahremand
Peykan is no longer anybody's dream
> Saeed Nouri
Good rider, You belong on our eyes
> Shahrzad Hemati
Peykan Now
> Sohrab Daryabandari
Iran National company according to Iranica
> Marjan Charkhchi
Peykan, the story of a burnt generation
> Hengameh Abedin
Riding Peykan in the green rectangle
> Chia Fooladi
The Peykan that happened to us
> Arash Hassanpour
The vast graveyard of Iran National family
> Masoud Mir