The vision of Enghelab street, is freedom;
Enghelab street is the oldest East-west axis of Tehran city. At first it was an end to Naseri Trench but because of the presence of key places such as Tehran University, Alborz Highschool, Daneshjoo Park, City Theatre, Roudaki Hall, and key squares such as ValiAsr, it now plays a significant position in our memories and nostalgia.
From the time it was known as RezaShah street till now, Enghelab street has held the collective memories of several generations. "Enghelab street is associated with a lot of images: from memories of the Konkoor exam to books and cafés, protests and romantic dates," says Farzad Moghadam.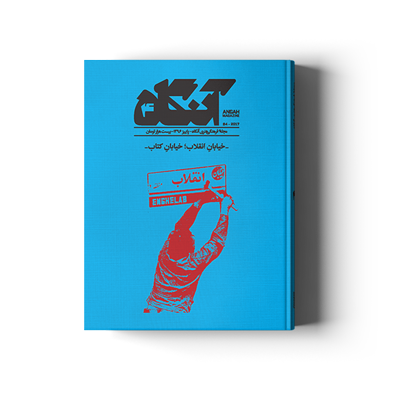 The fourth issue of Angah magazine begins with an article by Hossein Shahrabi discussing the importance of Enghelab Street and the need to talk about it, which prepares the reader's mind for the reason for this issue's subject. We see the name of Seyed Farid Ghasemi who wrote "Booksellers migration". it's hard to go by shops and book dealers without noticing Tahouri Library; Fateh Sahba recalls Seyed Abdolghafar Tahouri, who was genuinely the sacred center for book readers and cultural society, in his piece "This House Was Not Black."
Enghelab Street has experienced many terrible and joyful days, including the 1979 revolution. Days of fire and roars, captured by Ra'na Javadi, Kamran Shirdel, Kaveh Golestan, and Abbas Attar, and featured in this issue of Angah magazine.
Table Of content
7
Editorial
> Arash Tanhai
8
Why we talk about Enghelab street
> Hossein Shahrabi
12
The moat of modernity and the Enghelab street
> Masoud Shafigh
20
Booksellers migration
> Seyed Farid Ghasemi
24
This house was not black
> Fateh Sahba
36
Enghelab or revolution of…
> Maryam Palizban
38
Revolution in the Enghelab
> Photos of Ra'na Javadi, Kamran Shirdel, Kaveh Golestan and Abbas Attar
48
With all the love we gave…
> Conversation between Ali Rafi'ie and Ebrahim Haghighi
60
The forgotten hangout
> Roshanak Hadian
66
Reza Shah street
> Mona Najafizadeh
70
Very fine: Fine arts
> Saeed Rafi'ie Monfared
74
What disasters did not befall Farhad. Interview with arviz Tanavoli
> Hossein Ganji
80
A roof for Molavi THeatre Hall
> Asghar Hemmat
82
People of Enghelab street
> Photos of Ali Soltani
90
Human and street
> Hossein Ganji
94
Viva la Enghelab
> Sara Sabet
98
Where are the north and south of Tehran?
Interview with Va'ez Mahdavi
> Ali Nili
104
City signs
> Photos of Morteza Akochakian
106
No language here
>Vahid Lotfi Manesh
112
Signs of publication
> Meraj Ghanbari
114
Views of a street
> Astiaj Ziaie
122
Rural jammings
> Maryam Gholami
128
A walk among the memories
> Araan Javidani
134
Forbidden books society
> Ali Amir Riyahi
140
Indolence in the uproar
> Farzaneh Ghobadi
148
Dorology
> Mina Bozorgmehr
152
The fire that sat on the enchanted soul of book
> Hadi Aghajanzadeh
160
Head of Khiva's king
> Alireza Ghasem khan
162
Taste of Enghelab street
> Hajar Razmpa
166
From book hangout to book market
> Arash Hassanpour
170
America School
> Mohammadreza Behzadi
178
Alborz College
> Reza Dormishian
180
The Triple Door
> Ali Khodaei
184
Instant Plan
> Amir Hossein Khorshidfar
188
The red diamond of Ferdowsi
> Milad Eslaminejad
190
Story of the square statue
> Iraj Eskandari
192
Four climates in Chaharso
> Banoosheh Farhat
196
The first prayer
> Seyed Hadi Tabatabaei
202
The friday prayer; more than a prayer
> Ramin Mostaghim
204
Posters of Enghelab street
> Saeed Babavand
206
Yesterday of Enghelab
> Leila Nasiriha
212
Nested layers of a street
> Farzad Moghadam
218
Love in the Enghelab street
> Mohammad Tolouei
222
Current life behind the street's veil
> Zanyar Boloury
230
Ethere of body
> Ra'na Safari, Amin Bahrami, Davood Arsooni, Salar Kalantari