Ketab-e-Hafteh, The eternal book
Ketab-e-Hafteh, The Eternal Book" was the subject of the fifth issue of Angah art and culture magazine. "After fifty and some years, Ketab-e-Hafte is still one of the most pleasant cultural magazines in Iran," says Arash Tanhai in the editorial. Fateh sahba Writes in the first Article of this issue: ""In the middle of weekly low-level and hefty and serious monthly magazines, Ketabe-e-Hafte was a gem, And it was a stormy start for the history-making 1960s' young adults and adolescents".
Ahmad Shamloo's most important press activity is Ketab-e-Hafte, and it's impossible to discuss Ketab-e-Hafte without addressing Shamloo.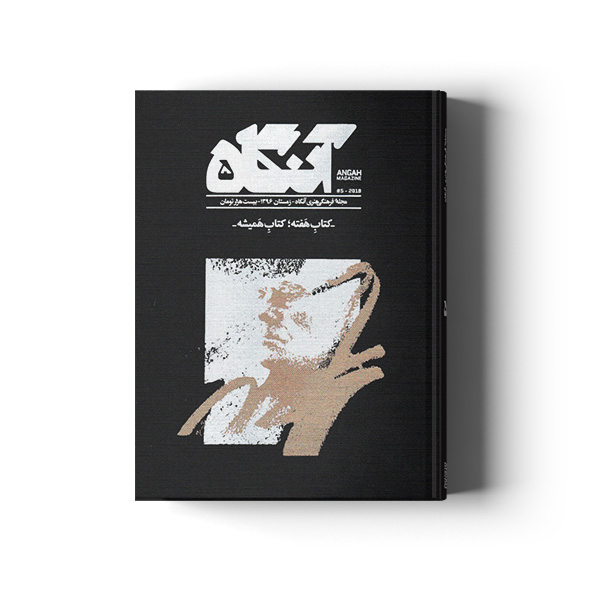 In his piece "Name of all Shamloo's poetry," Ali Amir Riahi talks about his meeting with Aida Shamloo and the ever-casting shadow of Shamloo on his wife, even after his death: "When you see her, you'll be astounded at how careful she is to keep in his shadow. To never be seen by herselves. She is careful not to draw attention to herself because of her efforts for Ketab-e-Kooch"'.
There are many images and illustrations, such as Morteza Momayez illustrations, attached to the articles that recall the Ketab-e-Hafte and Shamloo. In the middle of the magazine, there are 20 pages of Ketab-e-Hafte covers, each with the name of the editor and the cover artist for that issue. The fifth issue of Angah Magazine was released under the editorial direction of Arash Tanhai.
Table Of content
7
Editorial
> Arash Tanhai
8
Sunday morning peak
> Fateh Sahba
10
Background and the era of Ketab-e-Hafteh / Keyhan-e-Hafteh
> Seyed Farid Ghasemi
16
Name of all Shamloo's poems,
A meeting with Shamloo's Aida
> Ali Amir Riahi
26
No reason for me without you
> Seyfollah Samadian
32
Ketab-e-Hafteh and the cultural development industry
> Ali Bakhtiyari
38
Creative potion, rebellious and wise
> Farzad Moghadam
44
My drawings became one of the features of Ketab-e-Hafteh, Interview with Morteza Momayez
> Firouzeh Saberi
62
Until further notice: Long live Momayez
> Sa'ed Meshki
72
One person writers council
> Asadollah Amraee
76
When I go to the portraits
> Alireza Yazdani
82
The Intellectuals and the youth were attracted to Keyhan through Ketab-e-Hafteh. Interview with Javad Mojabi
> Hossein Ganji
90
Ketab-e-Hafteh for us and those who will come
> Aboutorab Khosravi
94
The verdict, The fugitive and the overnight passers
> Rasoul Nazarzadeh
98
Uncriticizable Myth of Shamloo
> Mahdi Salimi
104
A look into the Gilgamesh
And its persian translation in Ketab-e-Hafteh
> Javad Atefeh
114
Shamloo in Afghanistan. Interview with Yaghoob Yasna
> Haroon Majidi
118
Ardeshir Mohasses and Ahmad Shamloo after fifty years
> Seyed Amir Soghrati
150
Absence of women in Ketab-e-Hafteh
> Shooka Hosseini
156
Urban text in Manouchehr Safa's stories
> Hadith Motaghi
162
Ketab-e-Hafteh gave credit to popular culture . Interview with Ali Bolukbashi
> Nava Bamdad
166
Poetry in Ketab-e-Hafteh
> Farzin Parsikia
176
Shaping culture as a department of economics
> Ali Nili
180
Ketab-e-Hafteh Through the lens of cinema
> Hengameh Nahid
184
From Ketab-e-Hafteh to imigratiion
> Meraj Ghanbari
190
Small Hafteh exhibition
> Elnaz Vahid Fathi
194
Searching for Ketab-e-Hafteh
> Farzaneh Ghobadi
202
Ketab-e-Hafteh as the fashion of the era. Interview with Ali Asghar Haj Seyedjavadi
> Fateh Sahba
208
Masoud Etemad zadeh, M. A. Beh Azinor the editor of Ketab-e-Hafteh. Interview with Mohammad Ali Amoei
> Kabootar Arshadi
214
Keteb-e-Jom'e proceeding Ketab-e-Hafteh. Interview with A. Pashaei
> Hossein Ganji
220
Cultural twins. Interview with Mohammad Ebrahimian
> Zeynab Lak
224
In a limbo between poetry and picture
> Ali Alaei
230
Blessed be the another beginning
> Farid Moradi
238
Geography of Ketab-e-Hafteh
> Matin Amiri